This event is now closed.
Viewmont Drill Team Fundraiser 2021-2022
Viewmont High School
As members of the Vykelles, we strive to be positive role models for Viewmont High School and our community. This year we are looking for outside donations to help make our 2121-2022 season the best one yet! All donations will go toward costuming, choreography, competition fees, props, music, and team training. We appreciate all of the support we receive from you. As a member of the Viewmont Drill team, not only do we strive to be great dancers, we also learn to be punctual, respectful, hard-working, responsible, and have great sportsmanship. Your support is essential in helping us reach our goals.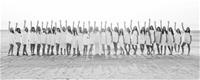 ---
You may also be interested in...