This event is now closed.
Greco & Freestyle Wrestling
Syracuse High School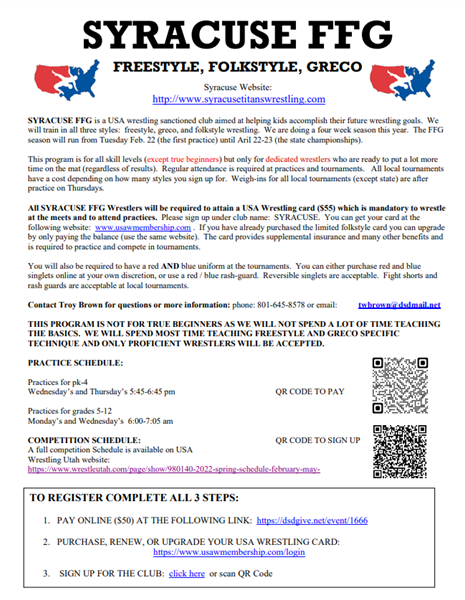 ***Please put the name of your wrestler in the comment box*** SYRACUSE FFG is a USA wrestling sanctioned club aimed at helping kids accomplish their future wrestling goals. We will train in all three styles: freestyle, greco, and folkstyle wrestling. We are doing a four week season this year. The FFG season will run from Tuesday Feb. 22 (the first practice) until Aril 22-23 (the state championships). This program is for all skill levels (except true beginners) but only for dedicated wrestlers who are ready to put a lot more time on the mat (regardless of results). Regular attendance is required at practices and tournaments. All local tournaments have a cost depending on how many styles you sign up for. Weigh-ins for all local tournaments (except state) are after practice on Thursdays. All SYRACUSE FFG Wrestlers will be required to attain a USA Wrestling card ($55) which is mandatory to wrestle at the meets and to attend practices. Please sign up under club name: SYRACUSE. You can get your card at the following website: www.usawmembership.com . If you have already purchased the limited folkstyle card you can upgrade by only paying the balance (use the same website). The card provides supplemental insurance and many other benefits and is required to practice and compete in tournaments. You will also be required to have a red AND blue uniform at the tournaments. You can either purchase red and blue singlets online at your own discretion, or use a red / blue rash-guard. Reversible singlets are acceptable. Fight shorts and rash guards are acceptable at local tournaments. Contact Troy Brown for questions or more information: phone: 801-645-8578 or email: twbrown@dsdmail.net THIS PROGRAM IS NOT FOR TRUE BEGINNERS AS WE WILL NOT SPEND A LOT OF TIME TEACHING THE BASICS. WE WILL SPEND MOST TIME TEACHING FREESTYLE AND GRECO SPECIFIC TECHNIQUE AND ONLY PROFICIENT WRESTLERS WILL BE ACCEPTED. PRACTICE SCHEDULE: Practices for pk-4 beginning March 1 Wednesday's and Thursday's 5:45-6:45 pm Practices for grades 5-12 beginning Feb. 28 Monday's and Wednesday's 6:00-7:05 am COMPETITION SCHEDULE: A full competition Schedule is available on USA Wrestling Utah website: https://www.wrestleutah.com/page/show/980140-2022-spring-schedule-february-may-
---
You may also be interested in...