This event is now closed.
Syracuse Titans Youth Coaches Clinic
Syracuse High School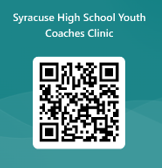 Syracuse Titans Youth Coaches Clinic Date: June 20th Time: 6:00-8:00 p.m. Location: Syracuse High School Cost: $25 The Syracuse high school football staff is putting together a coaches clinic for youth football coaches in the community. Come learn skills, drills, and schemes from your current SHS coaches. We want to grow the game of football in our area and help build the future of our football program. Registration is a 2 step process- 1. Pay here. 2. Register for the clinic using the QR code below. ***Registration is not complete until both steps are completed.*** The schedule for the day is attached.
---
You may also be interested in...