This event is now closed.
19/20 Youth Winter Wrestling Season
Syracuse High School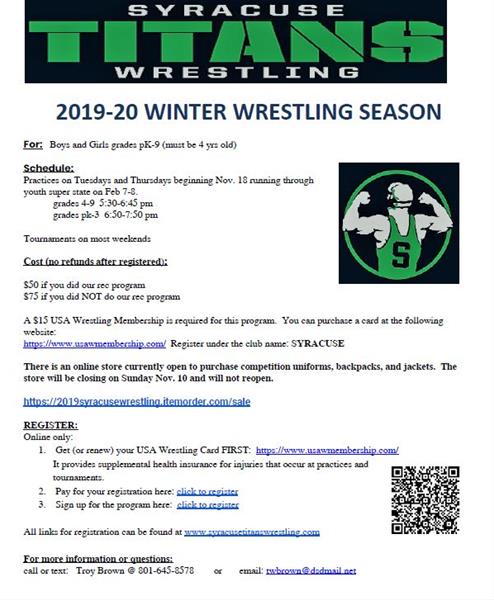 2019-20 YOUTH WINTER WRESTLING SEASON For: Boys and Girls grades PK-9 (must be 4 yrs old) Schedule: Practices on Tuesdays and Thursdays beginning Nov. 18 running through youth super state on Feb 7-8. grades 4-9 5:30-6:45 pm grades pk-3 6:50-7:50 pm Tournaments on most weekends Cost (no refunds after registered): $50 If you did our Rec program $75 If you did NOT do our Rec program A $15 USA Wrestling Membership is required for this program. You can purchase a card at the following website: https://www.usawmembership.com/ Register under the club name: SYRACUSE REGISTER: Online only: Get (or renew) your USA Wrestling Card FIRST: https://www.usawmembership.com/ It provides supplemental health insurance for injuries that occur at practices and tournaments. All links for registration can be found at www.syracusetitanswrestling.com For more information or questions: call or text: Troy Brown @ 801-645-8578 or email: twbrown@dsdmail.net
---
You may also be interested in...