This event is now closed.
Excalibur Wrestling Club
Northridge High School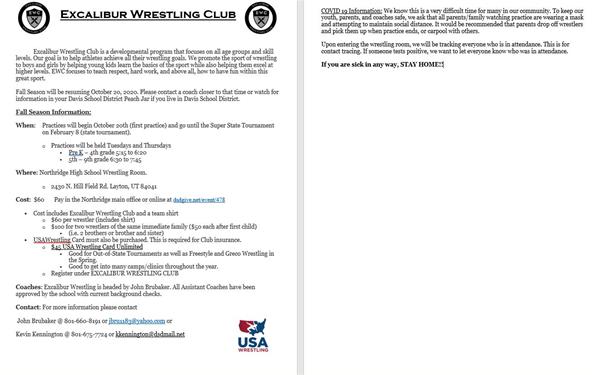 Excalibur Wrestling Club Excalibur Wrestling Club is a developmental program that focuses on all age groups and skill levels. Our goal is to help athletes achieve all their wrestling goals. We promote the sport of wrestling to boys and girls by helping young kids learn the basics of the sport while also helping them excel at higher levels. EWC focuses to teach respect, hard work, and above all, how to have fun within this great sport. Fall Season will be resuming October 15, 2019. Please contact a coach closer to that time or watch for information in your Davis School District Peach Jar if you live in Davis School District. Fall Season Information: When: Practices will begin October 20th (first practice) and go until the Super State Tournament on February 8 (state tournament). Practices will be held Tuesdays and Thursdays Pre K 4th grade 5:15 to 6:20 5th 9th grade 6:30 to 7:45 Where: Northridge High School Wrestling Room. 2430 N. Hill Field Rd. Layton, UT 84041 Cost: $60 Cost includes Excalibur Wrestling Club and a team shirt $60 per wrestler (includes shirt) $100 for two wrestlers of the same immediate family ($50 each after first child) (i.e. 2 brothers or brother and sister) **Must register and pay at Northridge High School Main Office USAWrestling Card must also be purchased. This is required for Club insurance. $45 USA Wrestling Card Unlimited Good for Out-of-State Tournaments as well as Freestyle and Greco Wrestling in the Spring. Also good to get into many camps/clinics throughout the year. Register under EXCALIBUR WRESTLING CLUB Coaches: Excalibur Wrestling is headed by John Brubaker. All Assistant Coaches have been approved by the school with current background checks. Contact: For more information please contact John Brubaker @ 801-660-8191 or jbru1183@yahoo.com or Kevin Kennington @ 801-675-7724 or kkennington@dsdmail.net COVID 19 Information: We know this is a very difficult time for many in our community. To keep our youth, parents, and coaches safe, we ask that all parents/family watching practice are wearing a mask and attempting to maintain social distance. It would be recommended that parents drop off wrestlers and pick them up when practice ends, or carpool with others. Upon entering the wrestling room, we will be tracking everyone who is in attendance. This is for contact tracing. If someone tests positive, we want to let everyone know who was in attendance. If you are sick in any way, STAY HOME!!

---
You may also be interested in...